Summer is coming and there's nothing better on a hot day than a refreshing cup of cold brew tea. It's the perfect way for staying hydrated and cooling down when the heat gets too unbearable. Cold brew tea is easy to make, versatile and affordable. It can be made with any tea you already have on hand.
The good thing about making cold brew tea is that it's much more difficult to "over brew your tea". I am always struggling to not over brew my tea, and am often left with bitter tea that's almost too unbearable to drink. Cold brew is much more friendly and mistake proof. Do note that while cold brew tea is simple to make, it needs to be made in advance, so make sure to give yourself enough time for quality cold brew!
Here are the simple steps to creating delicious cold brew tea.
1. Find a pitcher or bottle for your tea
The first step is to find a bottle or pitcher to make your tea. Remember that this has to go into the fridge. I personally like to use mason jars because you can put a lid on it. I don't usually make a lot at once, so a mason jar is the perfect size for this too.
2. Pick your tea
Both loose leaf and tea bags can work for cold brew, and pretty much any tea can be made into cold brew. You can use whatever you want from your tea collection. I decided to go with Paris from Harney and Sons.
3. Fill your pitcher or bottle with tea and water
Next, take about 1 teaspoon of tea/1 tea bag per 1 cup of water and put it into your container. Cover your pitcher or bottle and stick it in the fridge overnight.
4. The next morning, take your tea out, strain and enjoy!
I promise you that the overnight wait is worth it. After taking our your tea from your fridge, go ahead and strain the tea leaves out, or take out the tea bag. You can then feel free to add lemon or sweeteners to it. I personally like to drink it as is.
I hope you enjoy this recipe and make cold-brew tea all summer long! Stay cool everyone.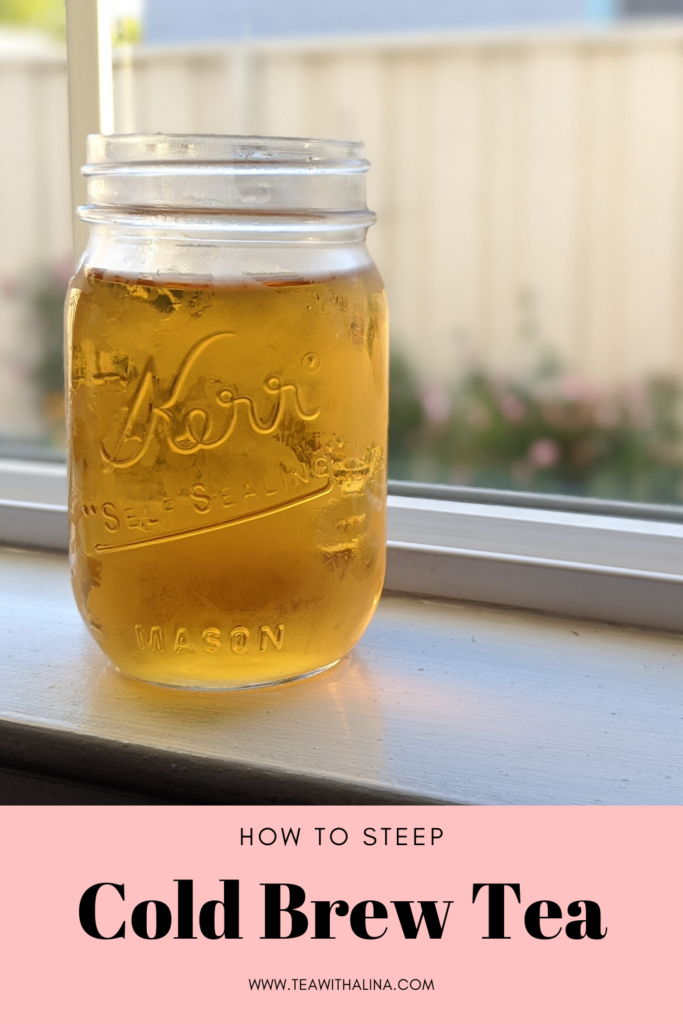 How to Steep Cold Brew Tea
Easy recipe for making cold brew tea.
Ingredients
1

tsp

tea

1

cup

water

sweetener

(to taste)
Instructions
Find a pitcher or bottle for your tea and pick a tea.

Fill your pitcher or bottle with tea and water

Stick tea in fridge overnight, strain next morning.